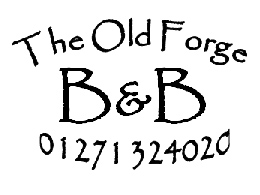 Home Accommodation TariffMenusDirectionsLocal Attractions Special Offers What People Say
Disclaimer: We exclude, as permitted by applicable law, all liability for any claims, losses, or damages arising directly or indirectly from the use, or inability to access, this website.
We accept no responsibility or liability related to the browsing of this site or downloading data or material from it. We make no representation or warranty, expressed or implied, relating to this website, including, but not limited to, any liability for errors, omissions or inaccuracies.
Material on this website is protected by copyright laws and can be downloaded for personal use only, and for no other purpose.
Photographs Julie Philipps, Ross Warmington, Richard Philipps, Ben Marksberry. Tony Atkinson, Just Focus Photography
Reservations
To enquire about availability or make a reservation, please email or telephone.
Email Address: info@theoldforgenorthdevon.com
Telephone: 01271 324020 or +44 1271 324020 if outside the United Kingdom.
Payment: We accept Visa and Mastercard as well as Debit Cards. You can also pay in cash. Do not email your credit or debit card details.
Deposit: We take a 10% deposit when rooms are booked. This is non-refundable in case of cancellation. Our terms and conditions apply when a reservation is made. See our terms and conditions under Tariff.